Type 15 (一五式衛人 Ichigo-shiki Morito) is an older Garde variant that first appears in Chapter 50.
Power Source
Edit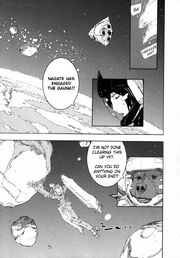 The Type 15 uses a non-Heigus backpack engine. As a result, it doesn't attract Gauna as the other models that use Heigus Particles do. The only downside is that it has a lower power output.
Ad blocker interference detected!
Wikia is a free-to-use site that makes money from advertising. We have a modified experience for viewers using ad blockers

Wikia is not accessible if you've made further modifications. Remove the custom ad blocker rule(s) and the page will load as expected.