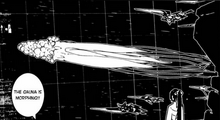 Gauna 493 is the name given the 493rd Gauna encountered by Sidonia. Initially camouflaged by its Placenta, it quickly morphed into a shape similar to the Sidonia's Planet Buster missiles. Like the Planet Buster missiles, it contained a nose cone with multiple explosive nodules. Unlike the Planet Buster missile, Gauna 493 was able to detach its nose cone from its main body - implying that the True Body was nestled within the explosives.
Gauna 493 was destroyed by Samari when Nagate exposed its True Body.
Ad blocker interference detected!
Wikia is a free-to-use site that makes money from advertising. We have a modified experience for viewers using ad blockers

Wikia is not accessible if you've made further modifications. Remove the custom ad blocker rule(s) and the page will load as expected.