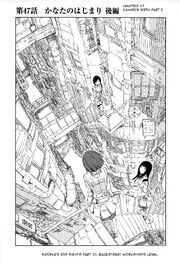 "100 Sites of Sidonia" is a guide book whose sites are used as the title pages of many chapters within Knights of Sidonia.
Below is a list of the sites and the chapter number in which they appear.
Residential District (1) - Chapter 2
Lower-level area with unstable power - Chapter 3
High-speed elevator shaft for human and goods transport - Chapter 4
Around the foundation of No. 16 Residence along the bridge to the Outskirts - Chapter 5
 - Chapter 7
Third Nature and Sports Park - Chapter 8
Captain's Quarters - Chapter 9
Riberbed Apartment Complex and Midorikawa Yuhata - Chapter 10
Public Baths - Shimada Baths - Chapter 12
Domestic chute to the organic reactor - Chapter 13
Secret Passageway in the Trainee Hostels - Chapter 14
Inside Trainee Hostels - Chapter 15
Vicinity of the Residential Tower core - Chapter 17
Underground Plumbing - Chapter 18
Unknown (Some construction site) - Chapter 19
Gates for Guardians - Chapter 20
Gauna Samples Tank in OSL Research - Chapter 22
An alley near Kuntao Development - Chapter 23
The old emergency stairway in pilots' dormitory - Chapter 24
The city's reproduction made by gaunas (conceptual drawing) - Chapter 25
The Rooftop Of Sidonia's 3rd Hospital - Chapter 27
Outer Wall Of Residential Tower's Top Story - Chapter 28
An External Stairway For Pilots - Chapter 29
Former Research Facilities - Chapter 30
Outside Staircase (Ko-2) - Chapter 32
Residental Tower's Topmost Section - Chapter 33
Vcinity Of The Higgs Torch Inspection Hole - Chapter 34
Resource Severence Tank - Chapter 35
Shinatose's Residence And Its Surroundings - Chapter 37
Candy Shop Level - Chapter 43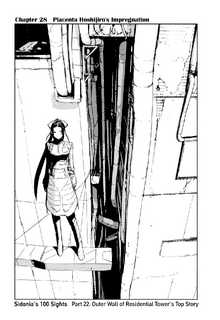 Ad blocker interference detected!
Wikia is a free-to-use site that makes money from advertising. We have a modified experience for viewers using ad blockers

Wikia is not accessible if you've made further modifications. Remove the custom ad blocker rule(s) and the page will load as expected.